Driving Clinic- Olds, AB Canada
July 6

-

July 8

$275 – $550
Get Tickets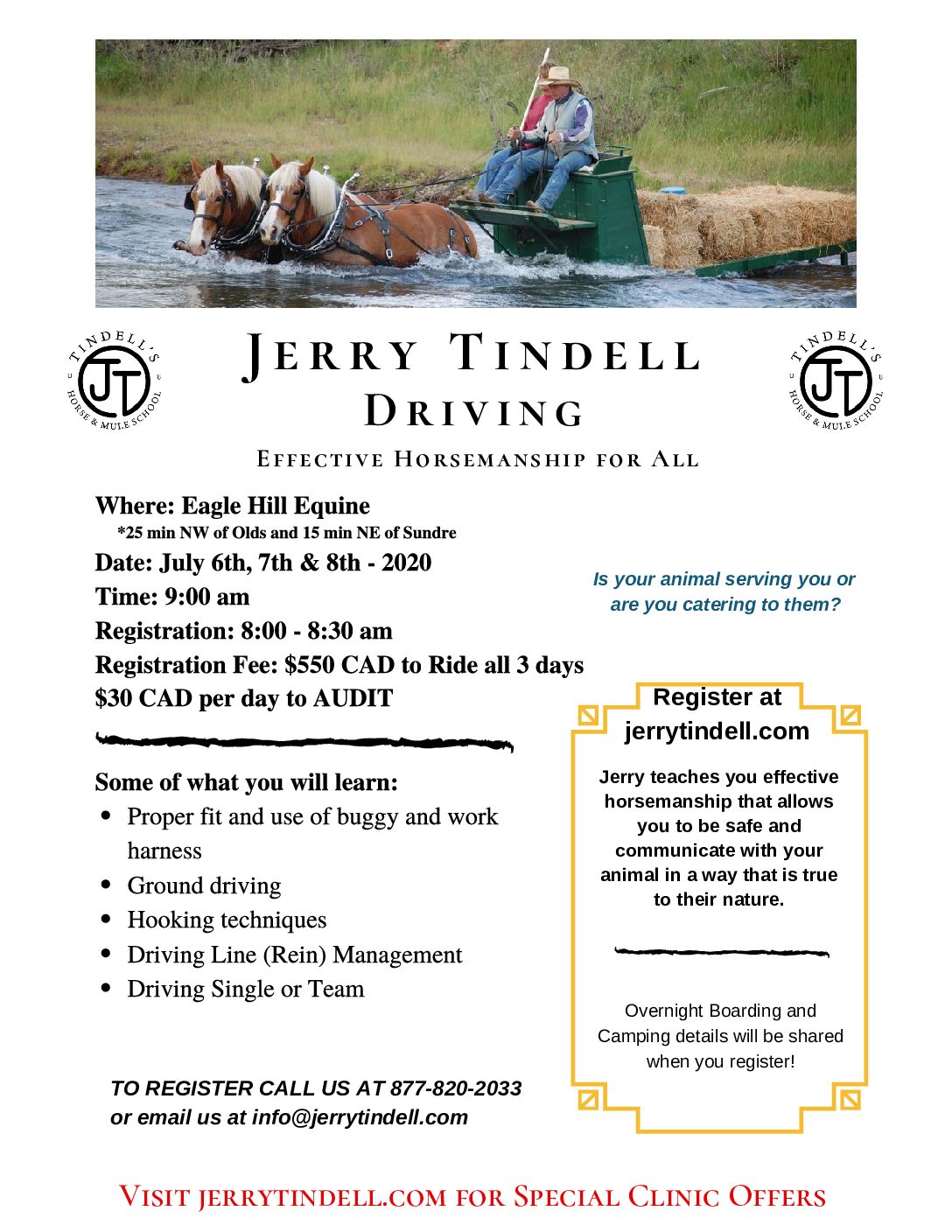 *Early Bird Special – When you register in full by May 1, 2020, to receive your complimentary Tindell's Horse and Mule School hat and DVD of your choice.  Items will be distributed at the clinic.
*Sign up for 2 or more clinics receive 50% Off a Private Lesson with Jerry.  As scheduling permits must be used During the 2020 Canadian Tour.  Limited to per student, cannot be split between students.  Dates available for Private Lessons are July 13th, 14th and 15th.  Please contact Jana @ (877) 820-2033 to schedule your time with Jerry. 
Please register as soon as possible to guarantee your spot in the class.  Registration is limited and on a first come first serve basis.  Complete payment due 30 days prior to the clinic.  Any balances remaining on clinic day will be charged a $50.00 late fee. Please pay all payments through electronic payment options.  GST is added to all payments.  Transaction fees apply.  Registration forms are to be completed with electronic payment.  15FullPhClini1-
Riders will need to sign a Release/Hold Harmless waiver before riding and minors must have a parent or guardian present to sign.  Each participant is allowed one horse per class to ride throughout the clinic.
Cancellation policy: All payments are non-refundable except in the event clinic is cancelled.
Facilities Fees: All fees for stalls, arena, cattle and other facilities costs are due at check-in. Contact clinic host regarding clinic location details:
Kim Baerg (403) 996-3105  kimbaerg@hotmail.com
Auditor: $30 CAD per day – No reservations required.