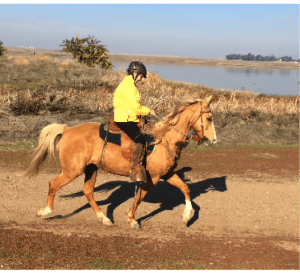 My association with Jerry has spanned 15 years +.  Those years bear witness to the long road we all travel on our personal development in horsemanship.  If the skill were tangible or clinical it might be possible to learn faster.  (Or as Jerry puts it, "if it were easy everybody would be doing it!")  But "FEEL" just isn't of that nature.  Jerry stands ready to support us as we meet our individual challenges.  
Riding and breeding gaited horses requires a different idea about a horse's movement.  For the longest time I waited to learn what the skills Jerry taught would do to enhance the ride on our horses.  After a clinic demonstrating a new exercise I had learned, my husband asked…."how does this help a horse gait better?"  I could not answer his question.  
I can now.  There are two important elements.  #1…..the horse needs to be bred for gait.  This factor brings to the training a natural inclination of that movement.  #2……the horse needs to be ALLOWED to develop into his natural inclination.  No differently than any other creature, a gaited horse can have issues. From physical strength, to hormones, to fear….any horse passes through stages that bring him to maturity. Jerry gives us the wisdom to understand and keep on working to find the softness needed for a settled horse.   Whether he will gait whenever asked or only on the way home is the responsibility of the rider.  The effect of natural horsemanship in the world of gaited horses teaches us to not to worry about gait.  Everything learned is foundation for gait.  
The essence of what Jerry teaches is to take what the horse offers, appreciate it, allow the good to strengthen while you groom and hone it to become the best it can be.  
Fran Odom
Oakdale, CA