Tindell's Horse and Mule School is a one-of-a-kind training and education program for horses, mules, and the humans that are involved with them. We understand the nature of the horse and mule and we want to translate that nature to the human. With decades of experience handling and caring for livestock of all kinds, we've studied their lifestyle, and understand how they think.
With a passion for nature and a deep appreciation for the beauty of these creatures, our goal is to teach as many horse and mule handlers about the nature of the horse.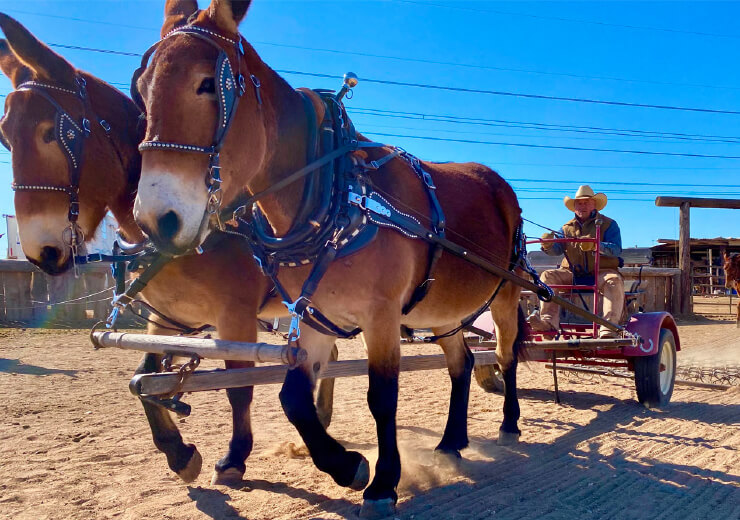 That's the secret and value we can give to our clients, both humans and equine! We want to teach the human what the horse already knows.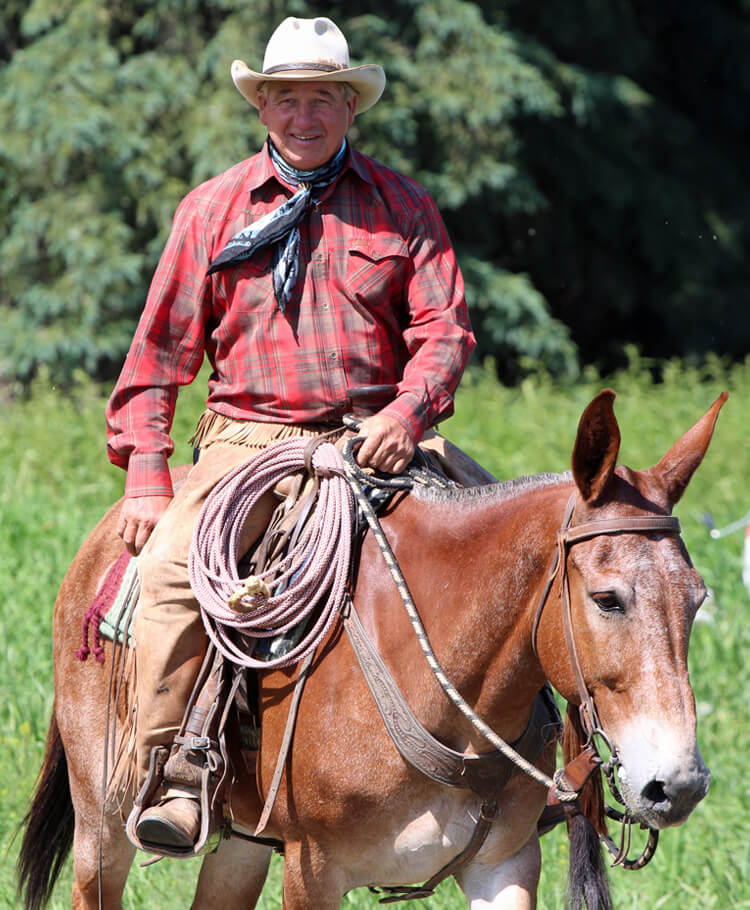 Our philosophy is simple: it starts with understanding the animal and then we translate that for the human. Stock training and client education do not mean anything if the horse or mule isn't at the center. We take full care to understand and interpret the emotions and needs of your animal, then teach you the communication skills necessary to have a working, productive, joyful, connected relationship.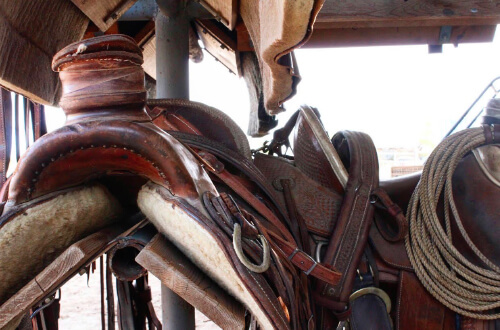 By understanding the true nature of the stock, the natural, and communication styles of these animals, we can build a stronger bond, work on control, and increased confidence for all owners and caretakers in a safe, sustainable manner. By building the connection between horses, and humans we can create an unbreakable relationship.
Our goal is to help you have the ride you desire and deserve through education and the right decisions when you are riding. We work hard to help you gain great value and understanding when you ride with us at our clinics, and training programs. Our first step is to assess where you and your animal are at today. Step two is to determine what you want to accomplish and experience with your animal and it is our job to help get you there, safely, and joyously!
Why Safety is Important to Us
Jerry learned from Ray Hunt that safety is about what happened before what happened happened. Go ahead, read that again, it's important.
"This is about awareness and timing to see how each action leads to another action. Safety is a core value in all of the programs at Tindell's Horse and Mule School. We believe fear can be healthy when knowledge comes with it. It's ok to have fear, but be aware of it, and don't let it make you afraid."
Jerry teaches his students three things to be safe
Be Observant
Notice what is happening from
the beginning
Remember
Don't let the lesson
be wasted
& Compare
Learn to understand the
differences you notice
Fear for humans today is not caused because they are afraid – it is caused because they are unsure. When you don't understand, you become unsure and you can develop fear and then you will not succeed. Fear is natural for humans, just like the horse and mule. If you don't start to understand this concept it can lead to being unsafe on your animal, without even realizing it.
We typically don't know we are unsafe until it gets western. Some steps and signs show up before the unsafe condition rears its head, but humans tend not to recognize them. In our training programs, we teach that small actions from the horse or mule need to be noticed before they turn into big things that create unsafe conditions. It is about what happened before what happened happened. Now we bet this makes more sense.
Many times, as humans, we don't recognize the lack of safety we experience and where that is leading us in our relationship with our animal. The human must have confidence and courage while teaching the horse or mule. Don't misunderstand, when you're around your animal in every manner, you're teaching the horse or mule, whether it is good, bad or indifferent. This is because of the natural herd dynamics that these animals operate under.
For us at Tindell's Horse & Mule School, we know through experience that many of the issues we see with humans and animals we serve begin with a lack of knowledge about the natural herd dynamics and the beginning actions that lead us to unsafe conditions with our animals. It is our mission to teach you these dynamics and the signs that will keep you on a safe mount with an enjoyable ride.
Don't allow your fear and unsureness hold you back because as you understand the fear goes away. Let's build a safe, confident journey together so you can enjoy your ride!
There are two types of people:
People that believe in what they understand People that understand what they believe
Through our Tindell's Effective and Progressive Training programs, it is our goal to teach you about the stock you own, and how to have any ride you desire. When we look at the horse and the mule, we want you to understand that there's a reason why they do what they do. We don't believe it is fair for humans to change the horse or mules' natural tendencies. Instead, we know through our experience that when we learn to understand them and use their natural rules of living to connect, guide, and become their leader, we will best succeed.
Animals live by two different sets of rules: they may be calm, quiet, and relaxed in the herd, or may become defensive and self-preserving. And they should be allowed to have both these thoughts. It is our job to learn to use those tendencies to achieve our goals with our animals.
In the herd, they learn how not to attack the lead mare as a pecking order is established. It is the code. It is not that pecking order is never challenged, it is more about the flowing and maturing dynamics of the herd. Everyone has a role and they stick to their natural rules. If a horse or mule can learn not to jump into the lead mare – we can also teach him not to jump into us.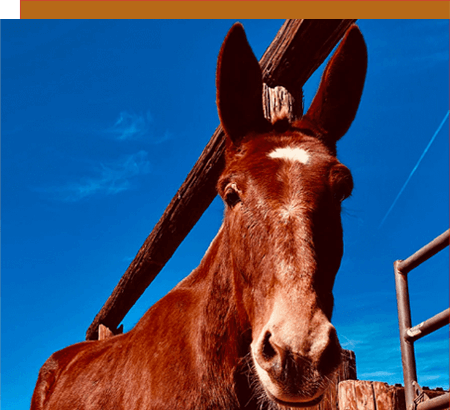 We want to help you understand their nature. So, let's learn together! Through the Tindell Effective and Progressive Training Programs, you will learn to understand the skills you need to develop your horse and mule as it fits them first and then you. Teaching to fit the horse, true to his nature guarantees your success. Whether beginner or advanced, these techniques will help you meet your goals, and your involvement with your horse becomes endless. It isn't about taking a class. It is about understanding how they live and relate.
Jerry believes they need more than food, water, and shelter. Food, water, and shelter keep them alive. But a calm, relaxed life in the human world is what keeps them more true to their nature. They have to be a horse.
So check out our courses, and remember, our mission is to help you understand your animal. We owe it to them.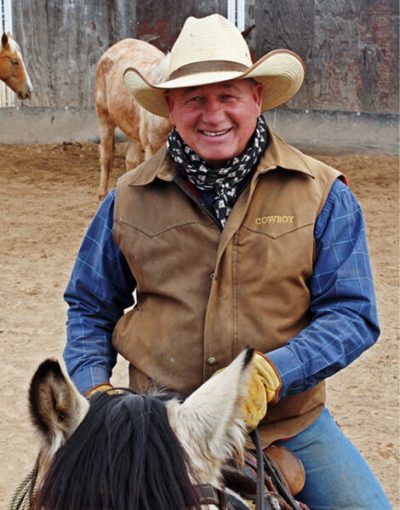 Jerry has been around horses and mules since he was a child. His daddy used both horses and mules in the logging industry in Missouri when he was growing up, which sparked a fire in Jerry that he could not put out.
When Jerry came to California in 1971 he went to work for his older brother shoeing horses and mules and overtime became an accomplished farrier with a successful business. In the early 90's he became the Equestrian Facility Supervisor for the LA Police Department Mounted Unit with 35 head of horses. They maintained an outstanding safety record with no incidents for the 10 years he ran this unit.
Jerry has been involved with Bishop Mule Days since the mid-'70s. First as a spectator, then as a competitor in all the driving and pulling classes, then later becoming one of the Clinicians during the week-long event. In 1985 he and a group of friends rode and packed from Ogden Utah to Bishop California for Mule Day and in 1986 went from Oak Hills California to the event with a team and a wagon. He continues to teach clinics, bring quality sale mules to the event, and support his clients when they are showing in the arena at the event to this day.
Jerry facilitates camp outrides, has been the ride manager for Los Caballeros Trek on Catalina Island for 23 years and serves his clients all over the country and in Canada. Throughout the year several clients travel to his ranch in Oak Hills, California for the experience of a lifetime.
Jerry has become one of North America's top horse and mule trainers. He is known for helping animals that are in trouble and helping their owners learn how to better relate and understand them in their natural way of thinking. Jerry's goal is to help his students progress into skilled and educated horsemen and women, helping them achieve new-found relationships with their animals and build a foundation to last a lifetime.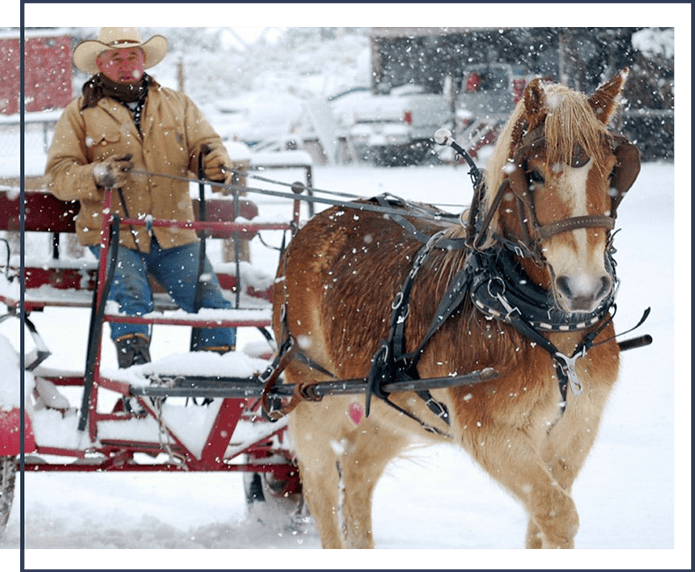 I am very fortunate to have spent a lifetime with horses and mules and to be able to make a living at it and I feel blessed to be able to share all the things I have learned over the years. Where else could you go and have more fun.