Jerry Tindell has spent his whole life around horses and mules and has a great understanding of how they think. He believes in old traditions and new opportunities. His dedication to people to help them understand and build a relationship with their stock is second to none.
It is the little things that make the big difference and Jerry wants to help you fix the little things that may be leading to a bigger problem down the road.
Jerry teaches from the ground up and is dedicated to helping you get into the mind of your ride. Typically, our problems reside in a misunderstanding between the rider and the horse or mule. Jerry can help assess your situation, give you a solution, and show you how to make a change right away. He finds it, defines it, and unlocks it every single time!
He was the Equestrian Facility Supervisor for the LA Police Department Mounted Unit for 10 years with an outstanding safety record, ride manager for the last 23 years for a ride on Catalina Island that host 100 people and continues to train, hold workshops and clinics at his ranch in Oak Hills California! Jerry brings all of this experience to every event he holds for clients, whether at a workshop on the ranch, at a private event, or a clinic hosted by Team Tindell or one of his clients.
"We don't teach the horse, mule, or donkey about the human – it is about teaching the human about the stock. We teach people what the stock already knows."
Our classes emphasize horsemanship, packing, driving, and other necessary skills for stock animals. We customize our clinics to fit your needs, so whatever we can do to help you is what this clinic is designed for. Check out our classes below and give us a call.
Groundwork: Laying the Foundation
This class introduces the basic building blocks of the Tindell Progressive Training Program and the Six Steps To Success. It is designed for green stock that is ready to be put under saddle.
Our clinic schedule is designed to fit your needs. We travel the country doing group classes and horsemanship clinics all over the country. We offer private lessons at our place, we offer private lessons at your place, we do workshops, and we're flexible about your learning style. Whether you want to learn the basics or you want to learn advanced horsemanship, we offer it all.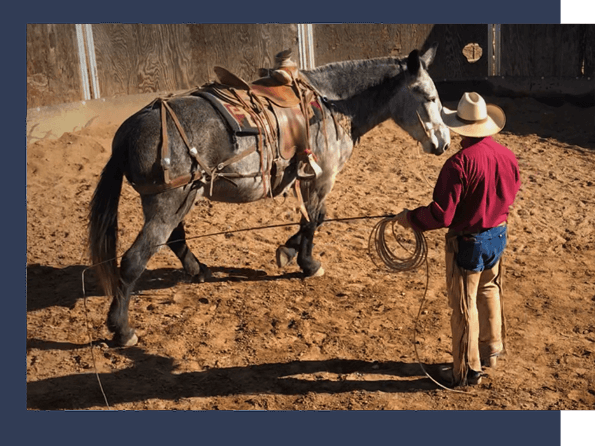 Round pen
Groundwork
Leading
Learning to come to a mounting block
Hobble Training
Saddling
Trailer Loading
Progressive Horsemanship 1
This class introduces the Tindell Progressive Training Program. All levels of riders will benefit by improving horse riding skills with their older stock and gaining a deeper understanding of horsemanship. An ideal class for riders wanting a deeper understanding and learning the true nature of the horse and safety builds a bond that can not be broken – connection – and green stock. This class is for new riders, riders with new horses, intermediate riders wanting a deeper connection.
The Six Steps Of Success


Backup, Shoulder Control, Forward Flexion,
Hindquarter Control, Stop, and Stand

Lateral flexion: Understanding the one-rein stop
Teaching hindquarter and front quarter control
Understanding the use of the Snaffle bit & the Hackamore
Trailer Loading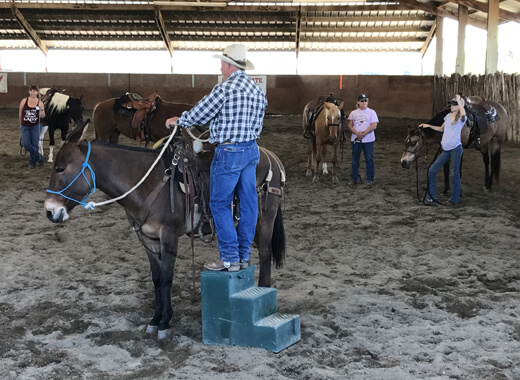 Progressive Horsemanship 2
Once you feel safe and confident that you can control your ride confidently, and effectively – we can progress. This class builds upon Progressive Horsemanship 1 and is designed to take you and your stock to a deeper understanding, so you can ride anywhere with your animal. Jerry teaches the dynamics of the body frame and the importance of correct body control. This class focuses on advancing from the Snaffle bit or Hackamore to a bit suitable for yourself and your stock. Students will build towards a more refined and precise ride.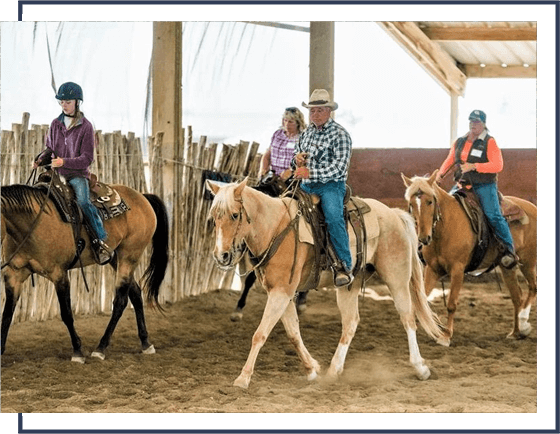 Introduction to body control; learning to separate all the body parts
Understanding an active leg
Introduction to leg yields
Understanding a soft feel
Riding with attention to detail of movement
Walk, trot, and lope with control
Correct stop and back up
Green horse or mule- you can handle – hold together pretty good with support, need a lot of confidence, need a leader – someone that can help them.
Advanced Learning: Putting it All Together
This class combines everything covered in Groundwork: Laying the Foundation, Horsemanship 1 and 2 with refinement, precision, and complete understanding. This class focuses on understanding the stock's point of view. Putting it all together – Jerry recommends that a student has studied the previous classes for a better understanding of your stock and the Tindell Progressive Training Program. This class is not recommended for green stock or green riders.
This is a self-defense class to keep you safe in unsafe conditions. It is NOT an enforcement class. It is designed to teach people how to be safe in all situations. Mounted riders can be very vulnerable.
This class teaches you to be secure in the saddle and to stay seated if your stock gets out of control. Jerry covers the steps to remain in control around hikers, bikers, wildlife, unforeseen objects, and anything else that might cause concern. This class is open to all disciplines, all levels of riders, and all stock.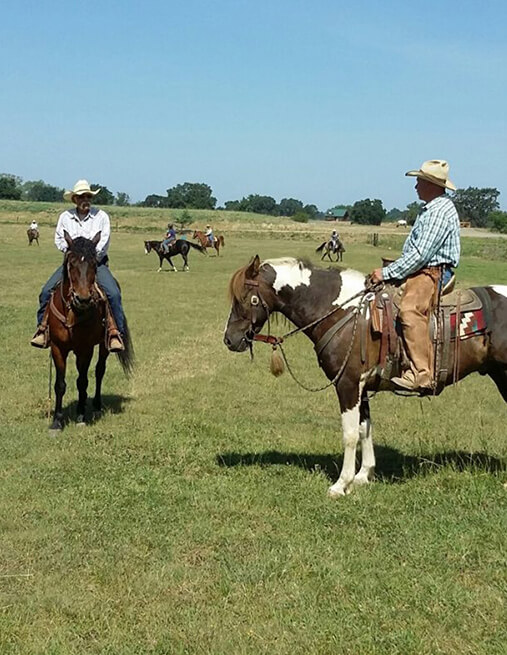 Learning to Lope with Confidence and Control
This is a necessary class for any rider looking to overcome resistance, frustration, and fear.
This class helps riders be comfortable at all gaits and rates of speed with a soft and willing animal.
A rider needs to be confident in loping their stock.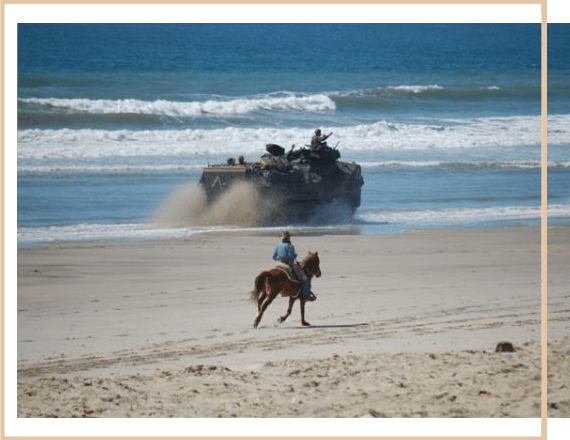 You might not feel the need to lope, but what do you do when your stock decides to? Jerry will teach you balance and position and will assist you in all areas of riding – not only in the arena or show pen. This class is presented in a safe environment for you and your stock to be successful.
This is the ultimate class for students interested in trail riding – either by themselves or in a group. This class helps all riders on the trail stay safe and in control under all conditions. Jerry teaches the skills to correct unsafe behaviors such as kicking on the trail, jigging, not crossing water, herd bound/nervousness, and navigating rough terrain. This class is set outside without fences or boundaries. It is open to all stock and all disciplines.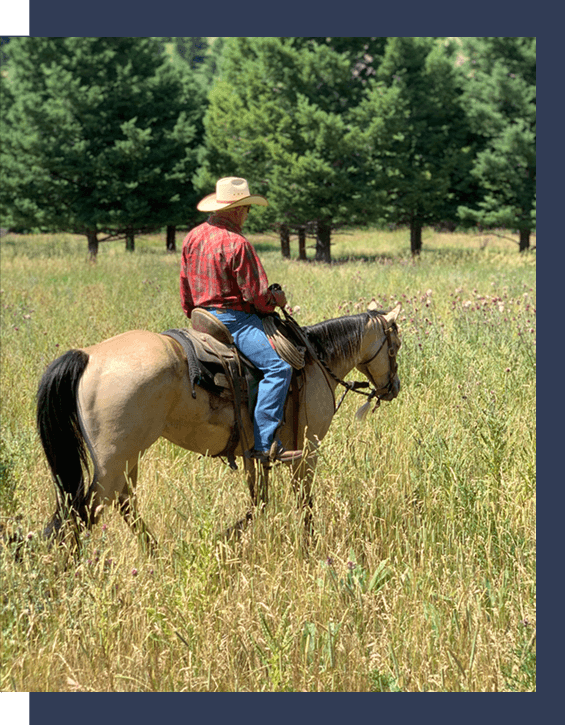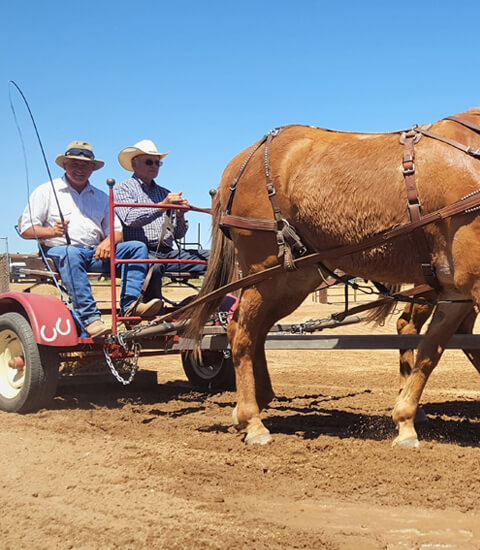 Jerry teaches all areas of driving and the importance of taking the necessary steps before hooking to a vehicle. He teaches how to properly fit and use both buggy and work harness.
This class teaches the student how to harness and ground drive your stock safely before hooking to a drag or vehicle. This class covers all the steps necessary for safe driving practices. All stock is welcome. Open to all who are interested in driving.
This class introduces any riders to put their stock on cattle. Learn how to read cattle and manage your riding stock effectively in a low-stress environment. It is designed to teach you and your stock to work together effectively move cattle. Jerry teaches correct body control and good timing to be productive in moving, sorting or gathering cattle.
Individual instruction is provided to create a safe training program. This class is a must for any horse, mule, or donkey and their handler.