 "I first found out about Jerry when my husband Roy and I [on our honeymoon] witnessed him demonstrating at Bishop Mule Days in California. We were very fascinated by his quick ability to get positive results with problem mules and donkeys brought to him by strangers. Jerry has an outstanding ability to communicate with people and their animals. His demos became the highlight of our visit to Bishop!Personally, I have found Jerry to be the best communicator of all the trainers I have taken clinics under. He often works overtime to help anyone who is struggling or having problems. Safety of both animal and participant is his first concern and he won't push either beyond what they are capable of. His approach to training and teaching dwells on a lot of common sense, something that we often overlook! His patience is infinite and he has a genuine concern for everyone involved in his clinics, and he has a great sense of humor! Jerry has given Roy and me some great tools in working with our mules. I only wish I had known of Jerry sooner! We look forward to his visit to Alberta! I love riding in his clinics."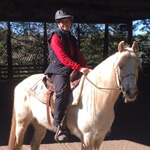 "I had my 34th ride today on Cody and he is starting to feel very solid. He is coming along really good in doing walk, flat walk, and foxtrot transitions. He is great on my obstacle course and is doing the rope gate as a pro. I tried cantering today and got a couple steps, but could not keep it up so we will continue to work on that. We have got in to a good routine and I am riding him 4 days a week – 3 days in the arena and 1 day down the drive way and up some neighbors driveways. Thanks again for transforming him to a nice horse with lots of potential."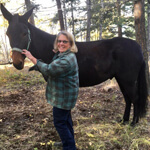 Okanagan, British Columbia, Canada
"Jerry, your experience with mules and horses is amazing, but your ability to teach and retrain the humans is one of your real strengths. I came away realizing that I have a wonderful animal, and that any negative quirks were being brought on by my lack of ability. You gave me tools and additional knowledge to solve the problems that existed. I now feel that I can do it, and that if a problem arises, it is such a great feeling to know that I can reach out to you and you will fix "me" !" "Dear Alberta Donkey and Mule Club:
My name is Mark Snell; my wife and myself are donkey and mule breeders from Saskatchewan. I have been involved in mules for the last 10 years and have seen many different clinicians and trainers all over from Manitoba, Saskatchewan, Alberta and B.C. and recently, as of 2 years ago since I joined the A.D.M.C., I have finally begun to understand the donkey and mule only for the fact of the clinician, Jerry Tindell. I just wanted to let you all know that I have seen an improvement in my stock mainly because of Jerry. I have tried different training methods from other clinicians and have not seen the results. Jerry's methods work on the stock as well as make sense to the people. From my own experience, other clinicians make people feel incompetent and small and in a way take peoples' confidence away. Jerry, on the other hand, gives you the tools to work with your stock and gives you the confidence to help them and he helps you do it in a safe and healthy manner.
I would like to say thank you for bringing Jerry in to Canada for these clinics. I realize it is a huge job and an expense to bring him in, but it is my opinion Jerry is the only clinician and trainer that has the knowledge and experience to work with mules and donkeys. There are many who claim to have the experience but they have not proven it yet. I can only speak for my family but I look forward to Jerry's return next year and so does my son who audited the colt starting I took this year. He is already looking forward to taking a riding clinic from Jerry."
Thank you once again~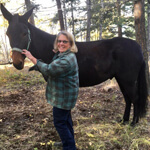 "Thank you for sponsoring the Jerry Tindell clinics. I have gone to 7 of his clinics so far in Alberta and 4 in California. This man by far surpasses any clinician I have ever been to. I have been raising and training mules and donkeys for about 25 years, learning everything the hard way, until I started Jerry's clinics. Keep up the good work with a special thanks to Marlene for all her hard work to make this possible." "I wanted to thank the Alberta Donkey & Mule Club for organizing the Tindell clinics. I recently attended the Forestburg Colt Starting Clinic. I was skeptical at first as I have taken several other clinics and the benefits were marginal, but I was told from several folks I respect to take one of Jerry's clinics. I am happy to say that I got more out of those 4 days than I could ever have hoped to attain. I look forward already to booking one or two more clinics for next year." "I would like to tell folks he is an outstanding teacher/educator and horseman! As a recent participant at one of Jerry's riding clinics, I would like to tell folks he is an outstanding teacher/educator and horseman. To begin, Jerry is very engaging and encouraging. His demeanor is clam and deliberate with a bit of humor thrown in for levity. Jerry practices the tenants of good instruction in that he tells you what he's going to tell you, he tells you, then he tells you what he told you. He also establishes purpose of the technique through example, not simply do as I say. Jerry's style also will not let you fail to achieve your goal. Although the clinic I attended had basic techniques, Jerry demonstrated how the basics are part of advanced horsemanship all the while emphasizing safety of the horse and rider. One of his tenants, "if it's not safe in the arena, it's not safe on the trail," was a constant throughout the clinic. Jerry is a master at what he does with humility thrown in for good measure. For those who ask, "You think he's that good?" My response, "I tell ya he's that good and a lot more." The three days I invested was well worth my time and $$. I believe if more people practiced some of the techniques Jerry presents there might be a lot fewer accidents and a lot more happy riders and horses. I am looking forward to the next clinic. Happy Trails." Outpost at Warden Rock Ltd.
"Tindell is a top notched Equine (horses, donkeys, mules and their human owners) trainer and in our opinion, the best!
Tim Barton and I have had been involved personally with horses our entire lives, and professionally as co-owners/operators of a Horseback Vacation business for the last ten years. Tim is also a retired teacher of Equine Anatomy, Physiology and Function at Alberta's Olds College. We believe our four-legged friends and mounts, deserve the best from their owners, and so we continually enhance our handling and riding skills through educational opportunities like clinics. Jerry Tindell is a top notched Equine (horses, donkeys, mules and their human owners) trainer and in our opinion, the best! Quite simply, there isn't any trainer in Canada, that is as good! Very few trainers have the actual real life, hands on experience working with all equines outside of an arena setting, and even fewer can share and teach that knowledge to a group of people and their animals (from various backgrounds, ages, abilities and training), in a fun, safe, and motivating environment, challenging the experienced enthusiasts, while not overwhelming the beginners. It is rare to find a trainer who can instruct a group and give individualized attention as if you were in a private session, all at the same time! He is so generous with his time and knowledge, and makes it his mission to get his students understanding the mind of the horse as it relates to its movement. He sticks with you and your horse, until you both get it, and that is why he is an outstanding trainer and one of a kind! Our business relies on safe and well-trained horses, and Jerry's methods have proven invaluable to us." "Jerry, Thanks again for your help. I 've attached a photo of Hotrod. He's a red roan, but I body clipped him and he's white for a while. He's a real clean 14 hand jack. A Hawkeye son. I'll try to get a clinic for you." Outpost at Warden Rock Ltd.
"Great response from horses and participants in Jerry's clinic in Olds. Tons of great changes in 4 leggeds as well as humans! As usual Jerry was great with both, and everyone got to benefit from his incredible skills as a horse mule man, teacher, communicator and demonstrator. He makes learning fun and the skills achievable . Everyone made some good ground with their stock, and had fun in the process. We are looking at bringing him back for two trips to Alberta next year. As soon as we get a response from Immigration about a multi entry work permit, we will let you know. I hope you are enjoying a nice long weekend for Memorial Day. Please pass on the message to Jerry and thank him from all participants and auditors. I hope he had fun at Mule Days." "Dear Jerry,
Just wanted to thank you for the incredible experience Salsa and I had at your Eagle Hill Clinic held on May 16, 17, 18 and 19, 2013. We took our first clinic with you last year and have not looked back since. Salsa is becoming a happy horse (most of the time).
Salsa and I still have a long way to go but with your help I am convinced we will get there. Once more thank you so much for being a caring person and teaching us how to handle our stock may it be horse, mule or donkey.
Thank you so much" "I was so pleased with the session! I've had the wonderful opportunity to participate in a wide variety of learning opportunities with Jerry. It started with my green ¾ Arab several years ago. He quickly learned to respond to cues to move over shoulders and hips, back up, move over and stand for mounting. He was more respectful. With the experience we both were much more prepared for continued training and improvement. Because I live a couple of hours away, I also watched the class. This, too, was beneficial. I learned from watching other horses and Jerry's patient teaching. Yes, by the time it was over I wished I'd brought my horse.
Because I had participated in clinics, I attended the Tindell Fall Gathering. What a treat! Riding through cattle and obstacles, watching a working border collie, and sharing experiences with other students were all outstanding opportunities. My latest and most needed session was the Colt Starting Clinic. With a small class of 5 or 6 there was a lot of individual attention. Sunny, my 2 ½ year old mustang filly, was a perfect age for the class. She has been responsive to the training. I thought I knew her pretty well, but she was full of surprises when we attended the 3 day clinic. The clinics always consider safety first. With a baby who knows very little except the basics—well, you just don't know how they will respond when a little pressure is put on them. I was so pleased with the session that I've signed up for the next one. I know that she will improve, and I will be learning even more about her and how to keep her on track for becoming a really nice riding horse. It doesn't make any difference what level of training your horse has attained, anyone can benefit from the appropriate clinic at the Tindell Horse and Mule School." "I can honestly say that without Jerry Tindell's dedication, determination and education I wouldn't have the dependable and enjoyable horse that I have today. After adopting a BLM mustang (a very cute appaloosa mare, Mustang Sally) I was looking for solid, competent guidance and found it at my first Jerry Tindell clinic. He covered basic groundwork, to include getting the head down, backing up, moving the shoulders over and hindquarter control. Quickly he taught me the mechanics of groundwork and how it is the foundation for establishing a connection with my horse. What we learn on the ground he said, will carry over to what we will do under saddle. Subsequent Tindell clinics took my horse Sally and I through a progression of riding skills, each one building on the previous lesson. It's been four years now under the knowledgeable guidance of Jerry Tindell and Sally and I have come a long way. Of course my education under Jerry is on-going because there is always more to learn from this amazing man and his gentle and patient way with horses and humans.
Training under Jerry allows me to experience consistent, safe and reliable rides every single time." Falkland, British Columbia
"Jerry would answer any question I asked as if it was the most important thing in the world. I've been to five of Jerry's clinics and have always come away with a wealth of knowledge and a clearer understanding of how to get my animals to respond better. Even in Bishop, California, as just someone hanging over the fence, Jerry would answer any question I asked as if it was the most important thing in the world. I find my training methods, using Jerry's way of doing things, makes things go smoother and with much faster results than my old ways of training. I've been breaking horses and mules for 40 years but the last 5 years, with a bunch of help from Jerry, have by far surpassed the previous 35 years. With all his knowledge and skill, Jerry always comes across as a regular Joe, no more important than anyone else. This I think is the key to his success. I've been to many clinics and always the clinician seems to let you know that he's a bit better than those he is trying to teach. Jerry is the very first instructor to telephone me after a clinic and ask me what I thought and if I got what I came for. I am heading to Bishop in the spring am looking forward to meeting with him again.
Thanks Jerry for making this all possible." "Dear Jerry,
I love riding in your clinics! I know that when I participate in one of your clinics I will be immersed in "horse" and surrounded by people that are just as enthusiastic and eager to learn as I am. Thank you for caring about us and our horses. Thank you for teaching us safe, effective strategies to communicate with our horses. Thank you for encouraging us to strive for excellence instead of settling for mediocrity. I appreciate the way you encourage us to expect more of ourselves: to accept the challenge, reward the "try" and appreciate and celebrate the growth and improvement instead of worrying about what we still can't do. Jerry, I always learn so much at your clinics, not only about my horses, but also about myself. As soon as one clinic is over I start looking forward to the next. As I drive away my mind is filled with lesson plans for each horse and once again I am inspired to reach for that next level.
Thank you for sharing your knowledge and experience with us." "Dear Jerry,
I have wanted to pen this letter for quite some time to thank you for all you have done for me and my mules. I will start at the beginning and try not to ramble on. In 2006 I sat and watched you work a young mule in Bishop CA and thought what a remarkable man you were. I watched what you were doing in great amazement – I was in awe to see the change in this mule, although subtle, but it was there in just minutes.
In June 2005 I had come off my mule "Waylon" and had such a fear of getting back on that it left me paralyzed. I had the opportunity to attend a 2-day clinic in June 2006 and was so pleased upon my arrival to learn that we would be working on groundwork and in the round pen, as I had no confidence to ride and that fear was overwhelming. I learned so much that weekend and in just those two short days started to regain my confidence. There was never any pressure from you or any of other clinic participants to ride and I found that I was not the only one with overwhelming fear. I took what I learned those two days home and for four months I worked him on the ground and in the round pen where we both gained mutual respect and both learned pressure and release—heck, Jerry, I think I licked and chewed more than that ole mule did.
Fast forward to October 2006 when I attended yet another clinic. The first day was groundwork and round penning so once again I did not ride. On Sunday we worked on the ground for most of the morning while others were riding. That afternoon you asked me if I was going to get on. I believe my response was a nervous laugh followed by some kind of nervous tick. You assured me that you would be right there with me in the round pen, so I reluctantly swung a leg over but there was a peaceful calm about the whole thing–I was still fearful but felt good–I don't know how to explain it. You worked him in the round pen and told me to hold the reins loosely and use the pommel of my saddle to steady myself, as if to ride with no hands–you were the driver and I was the passenger.
That day changed my life with my mule. You gave me the support to overcome my fear and my heart will be forever grateful for that.
Jerry, I read books and watched DVDs of others and even attended clinics given by others (no names mentioned out of respect!) and just couldn't get it. I consider myself an intelligent individual but I was just as confused and frustrated by the end of each book, DVD and clinic as before. I appreciate your "hands on" teaching and taking the time to make sure I understood just what you were asking me to ask of my mule.
I would also like to take this time to thank you for taking in "Lilly Mule" as we have a lot of work to do to prepare for our posse test, and after working with her six months and failing our test I knew she needed more than I could give her. She is a mule that has fear issues (kind of like I did), ear issues (not me, the mule—ha ha) and downright trust issues. I know she will come home a much safer and confident partner than what she was several months ago. I could already see the change in her eye after just a week and a half of being at "Camp Tindell"– it is a remarkable change and I am confident that we will pass our test on the next go 'round. Thank you again for giving me back my confidence and for giving "Lilly" much needed support while building the trust she so needs. I'm looking forward to working with you in 2010." Melinda MacDonald, D.V.M.
"Dear Jerry-
I hope that you know what a difference you have made in my life. Now I know that people who don't love horses can hardly imagine why anyone would think that learning how to work with your 4-year-old Thoroughbred could be a life changing experience, but those of you reading this who do love horses and mules will know exactly what I mean. While I have spent most of my life around horses either as a rider or as an equine veterinarian, I realized long ago that learning about them was a lifelong process. Then 2 years ago I made a terrible decision that cost both of my beloved horses their lives and I was sure that I would or should never be granted the honor of having another young horse to care for. But of course life is just no fun without a horse, so along came my then 3-year old Lake. Lake needed some time off to heal from his race training, and stall rest did not make him into a quiet young man, but I was confident that he was well within my sights and abilities. Of course, (as soon as you think you know something about horses..)
I found myself more than a little out manned this past spring trying to figure out how to stay on this big old Thoroughbred who had come into my life with quite a leap and a jolt. After spending a couple of nights gobbling down Excedrin tablets to recover from hitting the ground-my friend Cheryl Ellis reminded me that Jerry could help me with this little bucking problem. Of course the real issue was not the bucking, as those of you who know the JT program already know, but it was sure a big painful symptom of the problem. Suffice it to say that Lake has learned a lot of respect for JT – as have I – and better yet Lake is slowly but surely becoming convinced that he should also respect me- at least on the good days. I am still in the early learning stages of this lifelong learning process, but it would be an understatement to say that I am a lot better off now than I was last spring! P.S.: For those of you who ride English… aside from refusing to ride himself in the little postage stamps that we call saddles… everything Jerry is about is the horse, and that has nothing to do with the saddle you are riding in, so don't hesitate to bring your English tack to the clinics!"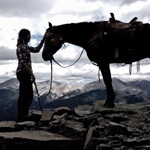 "I was very lucky this year to attend three JT Clinics – the Intermediate Riding Clinic and Riding with Challenges Clinic at Lakedell, and the Advanced Riding Clinic in Beaverlodge.
Jerry has helped me so much with my buckskin gelding, Jesse, who was such a reactive/broncy horse 3 years ago everyone around me thought I should get rid of him. Everyone was convinced there was "something wrong with him." As he was a wedding gift from my husband I was very reluctant to just get rid of him. I knew we needed help, and had worked with 4 different trainers with only marginal improvement – despite working with my horse 4-5 days a week, I still didn't have a horse who wouldn't randomly turn into a bucking bronc! One day in February 2013 my Aunt invited me to go on a trail ride with them. Jesse bucked me off three times before we even got out of the yard. She knew immediately I needed Jerry and I registered myself and Jesse for the Intermediate clinic at Lakedell as soon registration opened. That clinic was a turning point for Jesse and I – after 4 days I had a horse that I could ride and I wasn't on pins and needles thinking he was going to blow apart at any minute! I was very saddened when Jerry was unable to come to Canada for 2014. I took the opportunity to attend a different Horsemanship clinic, and was very disappointed with the clinic in general – I paid more for registration for this clinic, with a well-renowned clinician, and do not feel like I got half as much help as what Jerry had offered me.
I arrived at the Lakedell clinic this year again with Jesse, who had recently shown me that he still had that reactive side to him, demonstrated with him bolting off the first morning of the clinic when I went to get on. Jerry immediately recognized why this had happened, and personally took the time to work with me and Jesse directly in the round pen, helping me learn to recognize signs of "trouble" in your horse, how to help the horse get rid of that "trouble", and helping me (once again) to build confidence with this horse. By the end of the clinic I had a willing horse who had good, safe forward motion. Jerry wasn't so much helping my horse as he was helping me learn how to safely and effectively ask more out of my horse. Even though there were 9-10 other riders in the clinic I felt that he was always watching and helping – I never felt left out or not paid attention to. I also learned so much watching Jerry help other participants with their stock and their assortment of problems. The mules are definitely a whole new challenge and Jerry's expertise in training mules is invaluable. The changes from Day 1 to Day 4 witnessed in everyone's stock was pretty impressive. At the Beaverlodge clinic we continued to work on safe forward motion and softness. I am amazed at how much Jesse learned, and how much more there is for him to learn. The more I study under Jerry the more I want to learn, understand, and continue to work towards making a better horse.
Jesse and I just finished trail riding in the Rocky Mountains for 10 days – I am happy to report that he was soft, patient, and cooperative, even when other horses on the trail were spooking and dancing around or when he got caught in a ground hornet's nest. He was an outstanding partner! I have attached a picture of him and me at the top of Sheep Cliffs at Yaha Tinda.
Jerry is a top notch clinician and I hope that the Alberta Donkey and Mule Club continues to organize clinics in Canada – his knowledge, ability to teach, encouragement, understanding, patience, and commitment is invaluable. I know he saved my horse and for that I am forever grateful. I hope to continue to attend clinics for years to come!" "Dear Jerry,
I want to thank you for the Gaited Horse and Mule Clinic which I attended last weekend in Wilton. This was my first big clinic with my RMH, Jackson, and we both learned a lot.
Jerry's extensive and broad experience with and understanding of horses is the foundation for his teaching the horse and the human, who is mostly the one who needs the lessons. Since I am a teacher and teacher of teachers, I appreciated his keen observations (it's the little things that count), gentle corrections and the generosity of spirit with which he approaches his work.
The clinic moved from basic understanding of how horses move to helping us, as riders and leaders, improve our ability to see and feel the horse's movement on the ground and under saddle to improve our gaiting skills. Moreover, I returned home from the clinic with clear ideas about how to continue to improve and help my horse gait.
I'll be back."
"Jerry Tindell has spent years working with my mule and I, teaching both of us how to partner in riding. He amazingly remembers where we left off at the last lesson and picks right back up with a new challenge. I tend to over-intellectualize the process, and Jerry simplifies it to intent and effect. My mule is a willful creature, who requires me to be quite alert to his signals. Sometimes he is too quick for me, but with Jerry's help I have learned to be more present and aware. Jerry presents the principles of working safely with stock, and has a keen eye for body language both in the equine and the rider. I always come away with things to ponder and exercises to practice, and feel fortunate that JT has been my mentor throughout my mule riding years."
"My "Bucket List" mule and I were getting along splendidly until I sustained a major injury (unrelated to her) when she was four. The next 18 months she was turned out with our other three mules living the good life. Shortly after beginning to work with her again she became very difficult and proceeded with one vice after another. Our relationship was on the brink of disaster and we needed professional help. Someone I could trust to treat Katie fairly, use Natural Horsemanship methods, and be patient and kind, yet firm. We had attended a Colt Starting Clinic with Jerry Tindell when Katie was three and I knew he was our answer. Jerry put us both back on track. He helped me improve my horsemanship skills and Katie came home a willing, responsive little mule with a renewed work ethic. Jerry has the natural ability to read, communicate and redirect equine behavior. Most importantly Jerry cares-about our equines and about us. He stresses safety and the importance of good horsemanship. His unending patience and willingness to help us achieve our goals is amazing. Thank you Jerry!"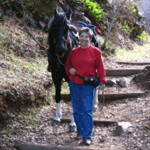 "For two years I had Jerry take my horse, Lil Bit of Color, and ride her on the 10 day camping trip in the high country. Both years I brought a list of 'fix its' and things that needed tuning up. The list of improvements is long – however the following are the most significant and miraculous changes: Regulating her speed on the trail and getting her to stop tail gating (she's a horse with a 'big motor'), loading her in a trailer on command – just telling her "load up" – it used to take me 20 minutes to get her in! The biggest correction of all was – About twice a year she used do a sudden and fast 180 when she spooked at an animal hiding in the bushes. The centrifugal force threw me off more than once before I could even realize what happened. Very scary. After her 10 day ride/training with Jerry – she has never done it again and it has now been 3 years!!! I have no idea how he trained her out of it – but it feels like a Miracle to me and gives me peace of mind on the trail!!"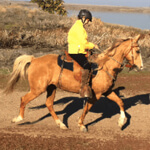 "My association with Jerry has spanned 15 years +.  Those years bear witness to the long road we all travel on our personal development in horsemanship.  If the skill were tangible or clinical it might be possible to learn faster.  (Or as Jerry puts it, "if it were easy everybody would be doing it!")  But "FEEL" just isn't of that nature.  Jerry stands ready to support us as we meet our individual challenges.
Riding and breeding gaited horses requires a different idea about a horse's movement.  For the longest time I waited to learn what the skills Jerry taught would do to enhance the ride on our horses.  After a clinic demonstrating a new exercise I had learned, my husband asked…."how does this help a horse gait better?"  I could not answer his question.
I can now.  There are two important elements.  #1…..the horse needs to be bred for gait.  This factor brings to the training a natural inclination of that movement.  #2……the horse needs to be ALLOWED to develop into his natural inclination.  No differently than any other creature, a gaited horse can have issues. From physical strength, to hormones, to fear….any horse passes through stages that bring him to maturity. Jerry gives us the wisdom to understand and keep on working to find the softness needed for a settled horse.   Whether he will gait whenever asked or only on the way home is the responsibility of the rider.  The effect of natural horsemanship in the world of gaited horses teaches us to not to worry about gait.  Everything learned is foundation for gait.
The essence of what Jerry teaches is to take what the horse offers, appreciate it, allow the good to strengthen while you groom and hone it to become the best it can be."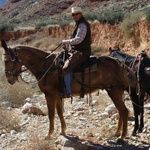 "Dear Jerry,
Just wanted to tell you again how much I appreciated getting to ride with you. The fact that you share your incredible experience and knowledge with others so patiently, putting the time in to give our mule 'Woodrow' the correct start in life and giving us the help to continue his training. Your help with my two horses Red and Thunder with driving in harness and softness in the circle has made a huge difference with them. Words cannot express how much I appreciate the knowledge you shared with me. I look forward to the next time I get to ride with you.
Sincerely," "I watched what you were doing in great amazement…." "Everything Jerry is about is the horse"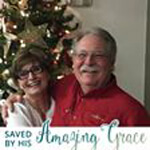 "Can't say enough about this guy ! He had my horse for a month and I brought home a different horse !! He also showed me some of what I was doing incorrectly; I am very grateful." "I'm happier than ever with my horse! Thank you Jerry"